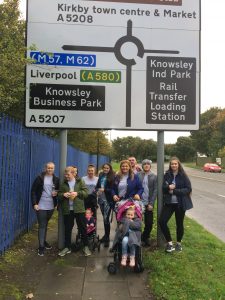 Starting Over Community group celebrated World Mental Health day 2017 by completing a sponsored walk through the Borough of Knowsley on Saturday 7th October.
Group members from Kirkby, Huyton, Prescot and Whiston braved the elements on a damp Saturday morning to complete the ten mile challenge.
The core group travelled through 4 areas of Knowsley with people from each neighbourhood joining in with the walk and talk for as little or as long as they where comfortable with.
The group was met at the beginning of the walk by Prescot green party councillor Joanne Burke whos party kindly provided refreshments for the participants.
Starting Over would like to thank Joanne and the green party for their contribution and look forward to working closely together again in the near future.
Councillor Burke added 'This is a brilliant initiative and potential resource for our communities. I was blown away by the motivation, commitment, enthusiasm and sheer determination of the organisers to get this group established. The weather was atrocious but you where undeterred….RESPECT".
Cllr Kai Tayor, Cllr Pat Cook, myself and the Knowsley Green Party look forward to getting involved and supporting your project getting established'.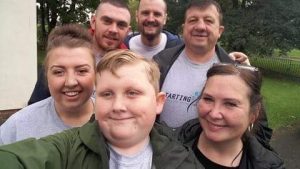 Despite periods of wind and rain the group battled through the elements from Kirkby through to Huyton & Prescot before finally finishing the walk at Stadt Moers park in Whiston.
Participants included 11 year old Sonny Horrocks who attends Alt Bridge secondary school. On finishing the walk Sonny stated ' I am so pleased with myself as I never really thought I would complete the challenge of a ten mile walk but I have done it!'.
Walk organisers Alex and Samantha Sillitoe added 'Sonnys determination to finish the walk was amazing and goes to show what people can achieve if they put their mind to it! We would like to thank everyone who took part in the event for making today such a success'. Altogether 25 people took part in at least some of the walk.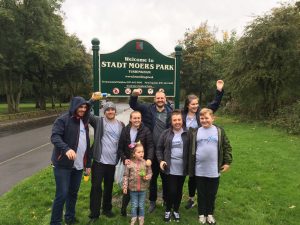 Our group would also like to give a big thank you to Barclays bank plc for making a pledge to match fund part of donations raised.
The aim of the group is to combat social isolation and improve the physical and mental wellbeing of Knowsley residents and its communities.
Following on from the walk Starting Over are hoping to run regular walk and talk groups in 4 neighbourhoods in our borough.
If you are interested in engaging in our walk and talk groups or any of the other activities we currently offer then please do not hesitate to contact us on 0151 482 0800.