Starting Over Enterprises donated the time of one of our therapists to provide some Indian Head Massage sessions for staff of North West Boroughs Healthcare on World mental Health day 2017.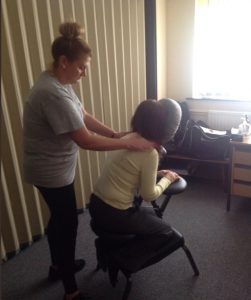 Feedback from participants was extremely positive who stated they would definitely love to make Indian Head Massage sessions a regular part of their working week.
Starting Over Enterprises aim to provide further Health and Wellbeing sessions for Knowsley Local Authority and NHS staff.
Research has suggested that introducing such exercises into the working week improves the mood of the workforce, thus improving productivity and reducing sickness rates.
If you would like to discuss the possibility of Health and Wellbeing sessions in your area then please contact us on 0151 482 0800.